The exclusively gated communities of Sandestin Golf, Tennis and Beach Resort is a special world unto itself since all 2,400 lushly landscaped acres are nestled in between the emerald toned Gulf of Mexico and the huge expanse of Choctawhatchee Bay. It is the by far the most prestigious resort community on the Florida Gulf Coast and for over thirty years people have "come here to play but stay for a lifetime." Real estate opportunities abound at this popular destination since many are now making Sandestin their primary residence while others use them part of the year and lease them out at other times to take advantage of the lucrative rental market. Over thirty different "neighborhoods", completed in varying styles of architecture and ambiance, comprise this beautiful unique resort setting. They include single family homes, attached town homes and condominiums which range from cozy cottages to bay front mansions to towering luxury towers right on the sugar white beach. You may view those currently for sale here at Ocean Reef on our Destin Real Estate Sales website complete with multiple photos of each.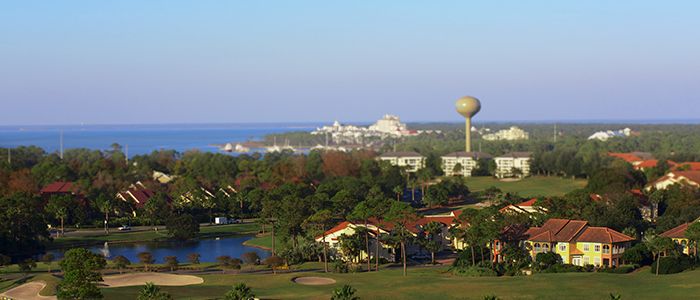 It is no wonder that Sandestin has become such a world class community. Besides the crystalline white beach there are championship golf courses, tennis courts, Grand Boulevard and the delightful Village of Baytowne Wharf complete with restaurants, bars, retail shops as well as a large marina that harbors yachts. The four golf courses include Baytowne, The Raven, The Links and Burnt Pines most of which are available for public play. The Sandestin golf courses have won over thirty different national awards over the years including "Best Golf in Northwest Florida" by Birmingham Magazine and "Top 75 Golf Resorts Worldwide". Golf Digest named Sandestin as one of the "Top Golf Resorts" nationwide. Golf for Women magazine listed it as one of the best courses in the nation and they have received the coveted "Gold Tee Award" multiple times.
Sandestin includes Baytowne which is described as being "Nouveau" New Orleans due to the authentic French colonial styled architecture and charming surroundings that were completed less than ten years ago. This Disneyesque family friendly version of the original is picture perfect in every way with a lovely lagoon dividing the village into two parts and a long wharf jutting out into the bay. There is a village green in the center which has an Events Plaza Stage with free live musical performances on a weekly basis throughout most of the year. Baytowne is a popular destination throughout the Summer season since fireworks are a weekly occurrence in addition to spectacular, musically choreographed pyrotechnics over the bay Memorial Day, July 4th, Labor Day and New Years.  The village is a virtual feast of delightful diversion for old and young alike. Kids enjoy old fashioned carousel rides, zip lines, obstacle courses, bubble balls, trampolines and a water park. Adults enjoy the multitude of unique boutiques, bars, restaurants and live musical entertainment throughout the year. Special seasonal festivals include wine and beer tastings, gumbo contests, art shows, movies on the green, Christmas festivities, New Years celebrations, Mardi Gras parades as well as tennis and golf tournaments. Nearby is Sandestin's town center called Grand Boulevard with its own set of restaurants, bars, upscale boutiques and a brand new state of the arts movie theater with stadium seating. This town center has a Palm Beach kind of look with dancing interactive fountains and over a million dollars worth of landscaping completed in a pedestrian friendly setting. This leads conveniently to a shopping center that includes a large Publix Grocery Store with a fountain out front as well as a Liquor Store and Dry Cleaners. Grand Boulevard ends at Sacred Heart Hospital, a gorgeous medical facility that earned a Diamond Award recently for being in the top 1% of all hospitals nationwide in patient satisfaction survey.
Currently there are 297 properties for sale in Sandestin with studios starting around $100,000, one bedroom condos at $150,000, two bedroom condos and single family homes around $200,000 and three bedroom properties starting at around $300,000.There are thirty single family homes or luxury condominiums asking over one million with the most expensive priced at $5,200,000. The general average is at $591,538 or $309.16 per square foot with a median price at $440,000. There are seventy-nine pending contracts and 303 properties have sold here in the past twelve months. These averaged $421,219 or $227.12 per square foot with a median at $365,000. The highest priced property sold within the past twelve months at $3,100,000. You may notice that there are fewer properties currently for sale than those that have sold within the past twelve months or are currently pending. Buyers are taking advantage of historically lower priced offerings and plan to retain them many years for their own use. This has caused inventory levels of properties available for sale to drop substantially. However, a new mid rise condominium called Osprey Pointe is in the planning stages.  It is to be located next to the existing Heron Walk community on Choctawhatchee Bay near Jolee Island and is being billed as a "bay front island preserve." It will have two and three bedroom models completed with European styled fixtures, custom cabinetry, crown molding, walk in showers, a private community pool and expansive balconies overlooking the pristine wetlands on the bay. As inventory levels fall, pricing has stabilized and is rising so this is definitely the year to purchase your part of paradise if you are so inclined. Enjoy reviewing our Destin real estate website to see complete listings or call our company to have one of our friendly, professional buyer consultants set up your appointments for a tour. Here at Ocean Reef Real Estate it is always our pleasure to be of service.
Search Sandestin Resort condos and homes for sale now with Ocean Reef Realty & Destin Real Estate Sales.
Leave a Comment